History of Suite Dreams Inn by the beach
Your hosts Mark and Gail Schulte, formerly from Ohio, are proud to present Suite Dreams Inn by the beach as your Key West home away from home. Mark spent 22 years with the Federal Reserve Bank of Cleveland and two private Ohio banks, several years teaching college business courses, and 12 years operating an Ohio aquatic development business. Gail is an Ohio Realtor and a medical researcher.
The couple that built the house that was later turned into Suite Dreams Inn were Robert (Bob) and Yvonne Snidow. Yvonne was born in Dijon, France and met Bob in Paris sometime after WWI. Bob was in the army and a graduate of VMI. His family was from Roanoke, Virginia. The Snidow's entertained many influential people, including Albert Einstein and President Truman. Bob developed a heart condition and retired in Key West. This architect's drawing and the photo are from 1939:
Bob's favorite pastime was growing hibiscus and playing tennis. Yvonne always wore a flower in her hair. Bob was a master at language, he knew several and taught Yvonne's sister, Charlotte, English. Charlotte immigrated to the US with her mother Anne from Dijon around 1934 they lived with Yvonne and Bob. Charlotte worked at the Casa Marina. She met her husband Taylor Grimes at Fort Taylor in Key West. During the war, while Taylor was serving overseas, Yvonne's niece Marianne and Charlotte spent significant time in Key West with Yvonne, Bob, and Anne.
The Snidows loved to entertain and were very social. This 1946 photo is outside what is now the Garden Suite. Their friends would come down from the North and they would take a boat to Cuba. Among their guests were Admiral Leahy and Otto Fischer (illustrator for Sat Evening Post). Charlotte, who learned English after immigrating to the US, taught French to the Hemingway's boys. Bob Snidow is buried at Arlington Cemetery, Virginia and Yvonne and Anne are buried in the Key West Cemetery.
The Snidow's home was configured as Suite Dreams Inn by Woody and his wife Joan in 1995 and took 8 months to open as one of Key West's first boutique guesthouses. They operated it for another one and a half years. Woody still lives in Key West. Suite Dreams Inn has had two other owners, Kay McMillian (13 years), and Jamie & Andy (7 years). On August 10, 2017, Gail and Mark purchased Suite Dreams Inn by the beach, fulfilling their five-year dream. They also purchased a home here in Key West with three monthly rentals as a longer-term option for our guests.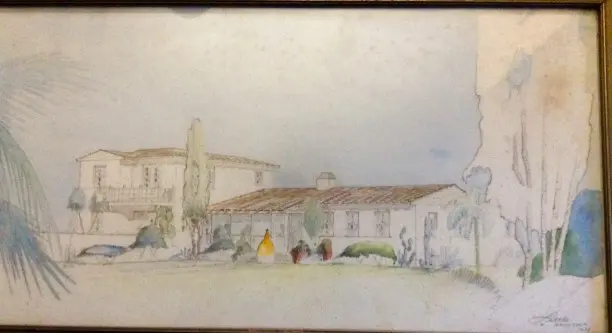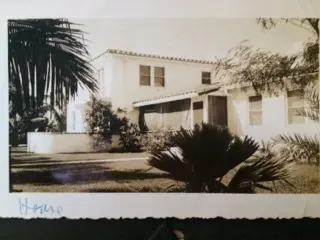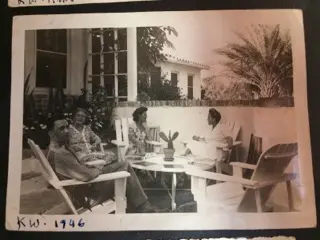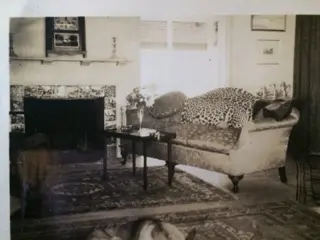 living room of the Hemingway Retreat
1001 Von Phister St. Key West, FL
Cell: (305) 849-3437